Simeon Simeonov's Personal Home Page
<< | | | >>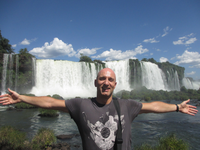 "The good life is one inspired by love and guided by knowledge." - Bertrand Russell
---

Short Bio
I emerged on a cold February day (Friday) as a "Model 1979" in the Regional hospital in Varna, Bulgaria. Despite my suspicions, there is no proof of large shiny objects appearing in the sky at that very moment. Following the family tradition, I was named after my father's father.... more

Additional Info
Internet aliases: Blackmore
Social aliases: Moni
Interests: computers, music, chess, history, training...
Spoken languages: Bulgarian, Norwegian, English, Russian, Spanish (Castilian)
My mini gallery (I will try to keep it updated)
E-Mail: blackmore (_AAT_) pichove (_DOTT_) org
PGP-Key - A664 5797 661E 2F47 3DD3 FF06 BCE7 0555 C3BB 08F7


IRC: Blackmore @ Freenode
Twitter: gueorgss
---
Copyright © 2005 - 2014 Simeon Simeonov.
Verbatim copying and redistribution of this entire page are permitted provided this notice is preserved.
---